Competition: Three phases - Five-figure prize money
A new business idea is born - but is it really ready for the market? How can I create a business plan that will convince financiers? What do I have to consider if I want to set up a business in Berlin or Brandenburg? By taking part in the Berlin-Brandenburg Business Plan Competition, you can find answers to these and other questions and win prize money.
You can participate in the competition in three phases and submit a business concept for evaluation. Business plans and business model canvas concepts are eligible.
Your business concept must be received by us by midnight on the respective deadline and should contain the required chapters/segments.
After the deadline, two members of the jury will receive your concept for evaluation. The concept will be examined on the basis of defined criteria and provided with hints, tips and comments.

Three phases - three chances to win prize money
Participation in the competition is independent of the other offers. You can take advantage of any BPW service as an option. The same applies to the phases.
Entry is possible in every phase.
You can submit a business plan or a business model canvas, switch between the categories and phases or participate in both categories.
Participation requirements
The first good news: Participation in BPW, including all services and offers, is free of charge!
Participation does not impose any obligations on you; there is no entitlement to prize money.
We welcome every idea, regardless of the sector in which the business idea is based and whether it is a start-up or a business succession.
You simply register free of charge and can then register online for our seminars, workshops, forums and networking events and manage your appointments. You can take advantage of all offers regardless of your participation in the competition.
Our hurdles are low, but the following must be fulfilled for successful participation:
The company is planned or has been founded in Berlin and/or Brandenburg.
If the company already exists, it was founded no more than 12 months before the start of the BPW year (October 2022).
The company already exists, but you are building up another business field or the company was taken over as part of a succession? In this case, participation is possible.
The business concept was created by the team members themselves (not by management consultants, etc.).
The concept was submitted on time by the respective deadline.
Please note: If you have gone through all stages of a BPW year, participation in our programme is no longer possible. Teams that have won an award on stage in a BPW year can no longer participate with this business idea.
If you are planning to expand your business field, you can also participate and benefit from the feedback of our jurors. We support founders in the pre-founding phase.
Participants who only register for networking events each year will be assessed and we will decide individually whether further participation is possible. In individual cases, the BPW team reserves the right to refuse participation in the programme. Contact us, we will be happy to advise you.
And this is how it works:
Register on our platform
Register and schedule your appointments, register for the competition and use the marketplace.
Develop your business plan step by step
The Berlin-Brandenburg Business Plan Competition is divided into three stages, at the end of which you will have a completed business plan:
Stage 1: Product/service and founding team
Stage 2: Market analysis and marketing
Stage 3: Company/Organisation and Financial Planning/Financing
In these three stages you will develop your individual business plan step by step. Each of these competition stages ends with a fixed deadline. When you submit your (partial) business plan for evaluation, you will receive two evaluations in the respective phase. This task is carried out by two independent jurors who will confidentially examine your concept on the basis of the specified evaluation criteria.
Our seminars and workshops help you prepare
Alternative: Create your Business Model Canvas
In addition to the business plan, you can alternatively or additionally submit a complete business model canvas for evaluation in each of the three phases. Like a business plan, each canvas concept receives two evaluations and is confidentially checked against predefined evaluation criteria.
Sustainable Entrepreneurship in Berlin and Brandenburg
Sustainability is one of the most important tasks of our era and must be considered at all levels. At the entrepreneurial level, sustainability means doing business successfully and at the same time creating ecological and social benefits. In the business plan competition, these goals are stringently considered and taken into account in the evaluation. In addition, one team is awarded the Sustainability Prize at the end of the competition.

You do not have to apply for the Sustainability Award. Every entry in the third competition phase is automatically admitted.
Award-winning universities
There are many bright minds at the universities in Berlin and Brandenburg who have innovative and sustainable business models as solutions for the challenges of today and tomorrow. The start-up centres at the universities support this entrepreneurial spirit with a wide range of support and advisory services - and we think that's excellent.
That's why we select the most active universities in Berlin and Brandenburg every year as part of the Business Plan Competition. The "Ideenschmiede" prize is awarded to the Berlin or Brandenburg university that has produced the strongest start-ups in the competition in terms of quantity and quality.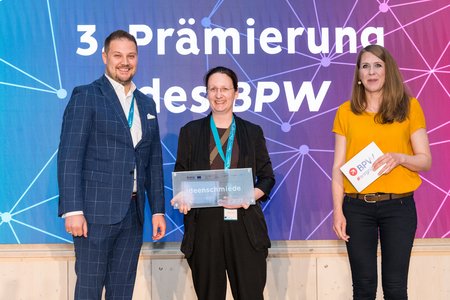 The Ideenschmiede Berlin 2023 was awarded to the University of the Arts. The award was given by Lukas Breitenbach, press officer of Berlin Partner for Technology and Business, to Venessa Tanović, head of the Career & Transfer Service Center.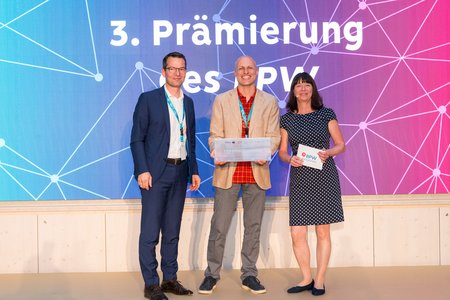 The Ideenschmiede Brandenburg was awarded to the Film University Babelsberg Konrad Wolf. The award was given by Sebastian Saule, Managing Director of the Brandenburg Economic Development Corporation (WFBB) to Jörn Krug, Project Manager Startup Service & MOVE2startup.
The Top 4 Benefits for Start-ups in Berlin and Brandenburg
✓ Start up in a structured way: You will be given a framework with which you can gradually create your individual business plan.
✓ Feedback: Whether you win one of the prizes or not, you will receive well-founded and detailed feedback from experts in all three phases of the competition.
✓ Sustainability: The competition encourages you to think about sustainability in your business idea from the very beginning.
✓ Prize money: The teams with the best concepts receive prize money that they can invest in the planning and implementation of their start-up idea.
We have the compact package reasons for you! In our downloads we therefore provide you with our guide free of charge. You can also access templates and our financing table. These tools will help you with your participation in the competition and with the creation of your business concept.